Paints Gross facade and Gross interior
Waterborne paints GROSS are a mixture of polymeric binder, fillers and special additives.
Paints are designed for exterior and interior application on plastered, concrete, cement, brick and other construction substrates.
Paints can be used as finish coats above Astratek insulating coatings, and independently as protective decorative coatings.
Paints are easy to apply, have fast drying times, and form solid and durable weatherproof finish coatings.
It's enough to apply paint in 1-2 coats to get a high-quality coating.
Water-based paint GROSS facade (WD-AC-1701) – is a material for high-quality painting of facades. Paint GROSS facade makes a seamless lightproof coating with excellent protective properties: high durability and UV resistance. It sustains temperature fluctuations from -60°С to +60°С.
Water-based paint GROSS interior (WD-AC-1702) is recommended for painting concrete, brick, plastered surfaces, gypsum plasterboards, wallpapers on the inside.
The benefits of paints: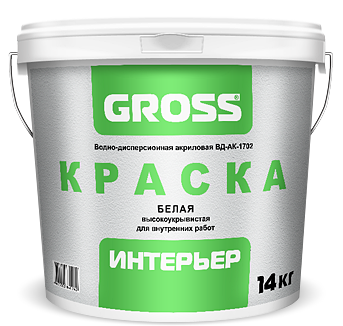 Vapor permeability
Durability
Elasticity
Excellent adhesion
Abrasion resistance
Washability
Hypoallergenic
Odourless
Environmentally friendly
Technical Data
| № | Characteristics | Gross facade | Gross interior | Test Method |
| --- | --- | --- | --- | --- |
| 1 | Appearance | Forms a smooth homogeneous surface after drying | Forms a smooth homogeneous surface after drying | p. 5.5 TU 2316-004-62584336-2009 |
| 2 | Color | Within the norms | Within the norms | GOST 29319 |
| 3 | Drying time to degree 3 (t = (20±2)°С, ambient humidity 65%), hour, not more | 1 | 1 | GOST 19007 |
| 4 | Viscosity (VZ-246 viscosimeter with nozzle size of 4 mm), sec, not less | 25 | 25 | GOST 8420 |
| 5 | Volume solids content, %, not less | 50 | 50 | GOST 17537 |
| 6 | Dry film spreading capacity, g/sq m, not more | 140 | 140 | GOST 8784 |
| 7 | Hydrogen ion exponent, рН, not less | 7 | 7 | GOST 28655 |
| 8 | Adhesion, B, within | 1-2 | 1-2 | GOST 15140 |
| 9 | Grinding, μm, not more | 70 | 70 | GOST 6589 |
| 10 | Coating resistance to water (t = (20±2)°С), hour, not less | 24 | 24 | GOST 9.403, method A |
Package: Plastic pails of 1.4; 4.2; and 14 kg.
Tinting
Color — base A (for pastel shades), base C (for rich colors). Paints GROSS may be manufactured in white and tinted form. The tinted paints are marked with the number of tint on the label. The tinting is made in accordance with the RAL catalogue. The volume of tinted paint is not less than 1000 kg.
Application
Surface should be dry, clean, free of oil, wax, dirt, rust, grease, or other foreign matter such as scales, paint chips, etc. Ambient temperature and substrate temperature should be higher than +5°С. Old mineral, loose, chalky and highly-absorbing substrates should be primed with Gross facade primer or similar acrylic primers.
Paints are applied by brush, roller or sprayer in 1-2 coats.
The coverage of the paint is 100-150 g/sq m (depends on a substrate type).
Prior to application the paint should be thoroughly mixed. It could be diluted with water if necessary. For a first coat it could be diluted with up to 10 % of water, for a finish coat it is not recommended to dilute the paint. The next coat can be applied in 2-4 hours after the first one (t = (20±2)°С, ambient humidity 65%).
Additional ventilation is not necessary. When applied by sprayer, proper respirators and goggles are recommended for your protection.
Storage and transportation
Product should be kept in a tightly closed pail in a storage area from +5°С to + 35°С, out of direct sunlight.
The product marked as anti-freeze can be transported at a temperature to -40°С during a month. 5 (five) freezing cycles are allowed.
The shelf life of the product is one year from manufacture date in proper storage and transportation conditions
The paint can be transported by all kinds of transport, in closed roofed vehicles, in accordance with the transportation regulations.