Primer Gross metal (anticorrosive, high-temperature)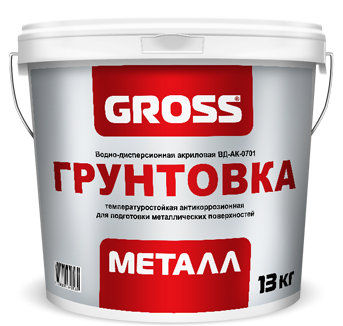 Primer Gross metal is a mixture of polymeric binder, fillers and special additives.
It is specially designed for anticorrosive protection of ferrous and nonferrous metal surfaces with operation temperature to +200°С, in harsh humid, salt or alkaline environments.
The primer could be used to prime the metal substrates before coating with ASTRATEK metal, or other materials (such as enamels, paints etc.). It could be applied in 2 coats and then work as enamel.
Primer Gross metal reduces the consumption of overcoating materials and makes overcoats more solid and durable.
Technical Data
№
Characteristics
Value
Test Method
1
Appearance
Forms a smooth homogeneous surface after drying
p. 5.5 TU 2316-003-62584336-2009
2
Color
Grey, the tint is not standardized
GOST 29319
3
Drying time to degree 3 (t = (20±2)°С, ambient humidity 65%), hour, not more
5
GOST 19007
4
Viscosity (VZ-246 viscosimeter with nozzle size of 4 mm), sec, not less
30
GOST 8420
5
Volume solids content, %, not less
48
GOST 17537, p. 5.6 TU 2316-003-62584336-2009
6
Hydrogen ion exponent, рН, not less
7
GOST 28655, p. 5.9 TU 2316-003-62584336-2009
7
Adhesion, B, within
1-2
GOST 15140
8
Grinding, μm, not more
70
GOST 6589
9
Dry film flexibility while bending, mm, not more
3
GOST 6806
10
Coating resistance to (t = (20±2)°С, hour, not less):
water
3% NaCl solution


24
8


GOST 9.403, method A
method B
11
Coating resistance to chemically aggressive substances (t = (20±2)°С), hour, not less
2
GOST 9.403, method A
Package: Plastic pails of 1.3; 4; and 13 kg.
Application
Primer GROSS metal should be mixed thoroughly when opened and then applied directly to surface with 1-2 coats. If the primer is too thick to use, it can be diluted with clean water up to 10 % against the total amount of the material. Make sure that all areas of the steel including welds and touch up areas have been coating with the primer. Wait 1-2 hours to make sure primer is cured. On the hot substrates the dry time is within 20-30 minutes.
Primer could be applied by brush, roller or sprayer.
Surface should be dry, clean, free of oil, wax, dirt, rust, grease, or other foreign matter such as scales, paint chips, etc. with temperature within +5°С — +60°С.
Use an airless sprayer for areas of more than 100 sq m.
For less than 100 sq m use an air gun with 4-5 bar pressure.
Brushing is recommended for curved and formed substrates especially in tight areas.
The operation temperature from — 60°C to + 200°C (allowed short-term (1-2 hours) heat loads up to +260°C).
The coverage of the primer in 1 coat is 100-150 g/sq m (depends on a substrate type).
Additional ventilation is not necessary. When applied by sprayer, proper respirators and goggles are recommended for your protection.
Storage and transportation
Product should be kept in a tightly closed pail in a storage area from +5°С to + 35°С, out of direct sunlight.
The shelf life of the product is one year from manufacture date in proper storage and transportation conditions
The primer can be transported by all kinds of transport, in closed roofed vehicles, in accordance with the transportation regulations.